---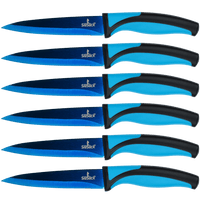 Sale
Steak Knife Set (6 Blue Handle, Blue Blade)
Sale price $ 25.00 Regular price $ 35.00
Tax included.
✅ DITCH THE SERRATED, TRY SMOOTH: Upgrade your cutting experience with our smooth, plain edge blade - no more torn and damaged food fibers like with traditional serrated knives. At SiliSlick, we made the switch and never looked back.
✨ FOOD GRADE STAINLESS STEEL: Experience exceptional durability and performance with our food grade stainless steel knives. Crafted from superior quality stainless steel, each blade is finely sharpened and plated with non-stick titanium for a colorful, iridescent finish that adds a touch of style to your kitchen.
✅ PRECISION SHARPNESS & NON-STICK: Effortlessly cut through any type of meat with our precision sharp, non-stick blades. Whether you're slicing steak, poultry, or fish, our iridescent knife set delivers clean, smooth cuts every time. And with its sleek and stylish design, it's not just about good looks, but practicality too.
➕ PROTECTIVE SAFETY SHEATH: Keep your fingers and blades safe with the included safety sheaths for each knife. Made from hard-wearing and rust-proof material, these sheaths protect your knives when not in use and make for easy storage. Plus, the recyclable storage box ensures that your knife set is not only practical, but also environmentally friendly.
✅ MODERN ERGONOMIC DESIGN: Effortlessly handle any cutting task with our ergonomic, comfort grip handles. Designed to provide a secure and comfortable grip, these handles make it easy to hold and control each knife, whether you're using it at home or in a professional kitchen setting. And with their ability to hold their edge well, these straight edge knives are sure to meet all your cutting needs.